QT41-HARMOTEX
Hot dies steel that contributes to extended service life of dies
QT41-HARMOTEX contributes to "total cost reduction" of dies.
High performance

Cost down
Features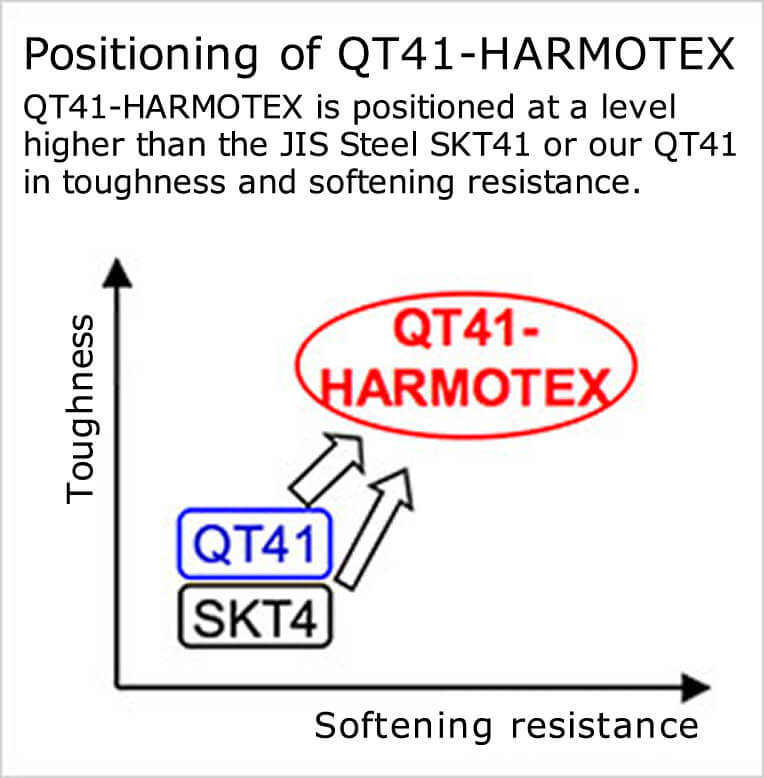 Hot dies steel that achieves both toughness and softening resistance.
By morphology control of carbides, toughness has been improved about twice that of conventional material and cracking and chipping are suppressed when dies are used.
The increased thermal stability of tissues can improve the softening resistance by about 1.5 times that of conventional material and can suppress wear and setting when dies are used over a long period.
Merit
QT41-HARMOTEX extends dies service life and contributes to increased productivity and reduction in manufacturing cost.
Due to QT41-HARMOTEX's properties of high toughness and softening resistance, the material contributes to the further stability and improvement of hot dies service life.
Application
Dies and forging machine components where particularly high durability is required such as forging hammer dies and die holders used for manufacturing of automobile components.