QDX-HARMOTEX
Steel for die casting dies with superb strength and toughness
QDX-HARMOTEX contributes to "total cost reduction" of die.
High performance

Cost down
Features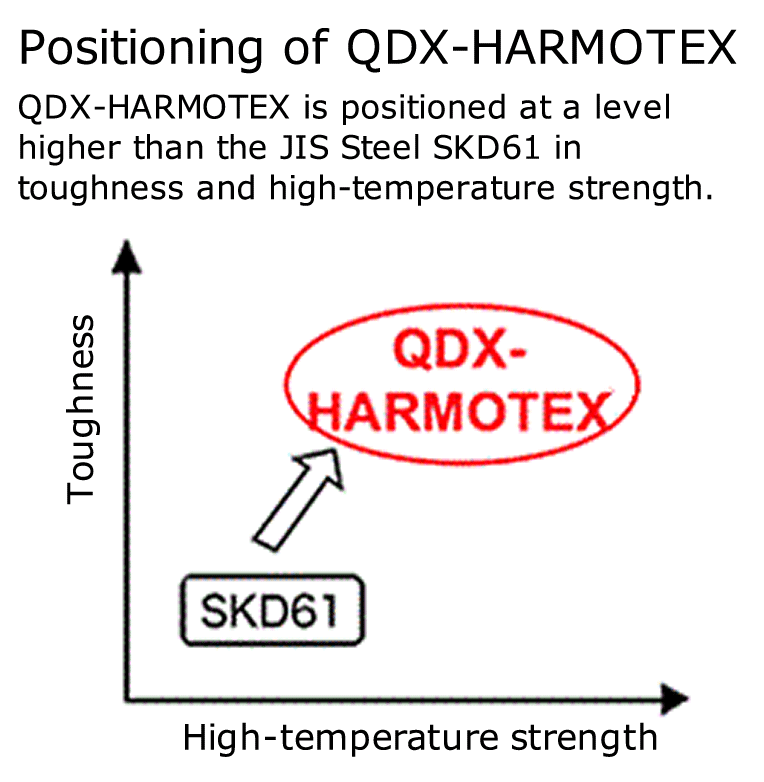 Steel for die casting dies that provides both high strength and toughness.
By increasing the thermal stability of carbide, high-temperature strength is improved by about 1.3 times that of JIS SKD61 steel, preventing generation of large cracks or microscopic chipping of dies. In January 2016, QDX-HARMOTEX was accredited and registered as a high-strength grade steel for die casting dies by the North American Die Casting Association (NADCA).

Enlarged cross-sectional view of a test piece after repeating 100 cycles of heating and cooling,
with heating from room temperature to 600°C and cooling from 600°C to room temperature as one cycle.
Microcracks are formed due to thermal fatigue; however,
in QDX-HARMOTEX that has high-temperature strength and toughness,
generation and propagation of cracks are suppressed and the depth and width of cracks are alleviated as compared with SKD61.
Merit
QDX-HARMOTEX contributes to increased productivity and reduction in manufacturing cost due to the increased dies service life.
Owing to its properties of high strength and toughness, QDX-HARMOTEX contributes to greater stability and improvement of service life of die casting dies.
Application
Hot die casting and forging dies of aluminum, zinc, magnesium, etc.