ECOMAX4
Ni, Mo-free High Strength Case-hardening Steel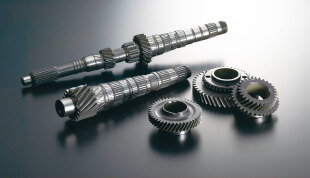 Contribution to "total cost down" by reduction in size of automobile powertrain parts
High performance

Reliability

Process shortening

Cost down
Features
Rare metal saving case hardening steel that provides both high strength and workability.
Rare-metal-saving case-hardened steel that does not use nickel and molybdenum, which are rare resources.
In addition to a great increase in strength (improved pitting properties and flexural fatigue properties), suppression of heat treatment strain has been achieved in the component manufacturing process.
Merit
Able to reduce cost and shorten the process.
Since ECOMAX 4 provides fatigue strength more than five times that of general JIS steel, reduction in size and weight of components can be expected.
ECOMAX 4 is of a rare resources saving type and contributes to cost reduction.
As crystal grains are stabilized in a microscopically fine state during carburizing and heating, ECOMAX 4 may possibly eliminate the normalizing process.
ECOMAX 4 has the property to suppress deformation at the time of heat treatment. Simplified straightening after carburizing hardening and finishing can be expected.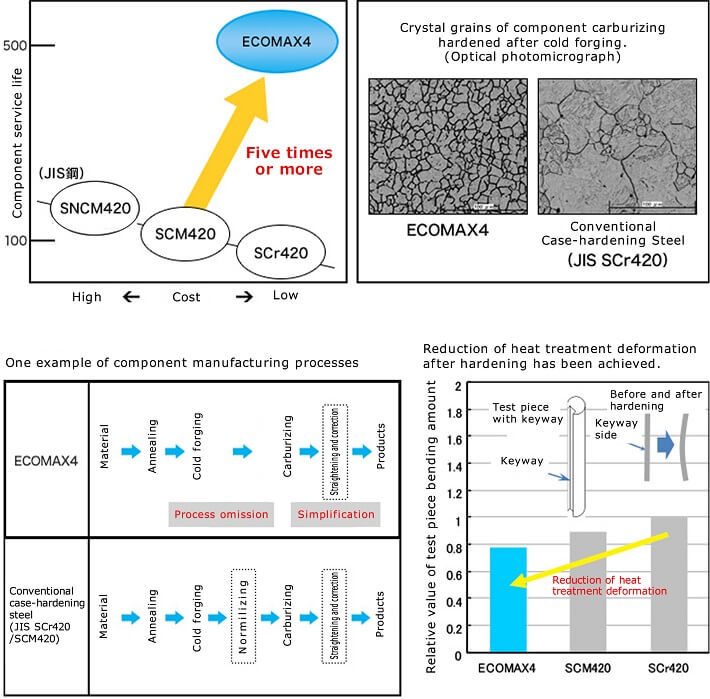 Application
For reduction in size and weight of gears, shafts, or other automotive powertrain components.
For total cost reduction from Ni- and Mo-added steels.