TMAX520J2B
High strength and high cold forgeability case-hardening steel with grain-coarsening resistance
Contribution to the miniaturization and cost-cutting on CVJs, gears, and other powertrain parts
Small size and lightweight.

Process shortening

Cost down

ECO
Features
Adding titanium and boron has achieved both high strength and reduction in manufacturing cost of components.
In TMAX steel, TiC (titanium carbide) precipitates are dispersed to provide an excellent pinning effect to prevent grain coarsening, enabling the reduction of parts production costs due to the shortening of carburizing time by the adoption of higher carburizing temperature and the omission of a normalizing treatment after cold forming, as well as the reduction in size and weight of parts due to the higher strength of the material.
Merit
To meet the requirements of increased strength as well as reduction in cost and size and weight of automotive powertrain components.
Increased strength, shortened manufacturing process, and reduced manufacturing cost of differential side, differential pinion, and shaft gears and other automobile power train components can be achieved.
Further miniaturization and weight reduction of components by increasing strength of material.
TMAX520J2B is applicable to carburized components in general and meets the needs in the field where high-strength material is required.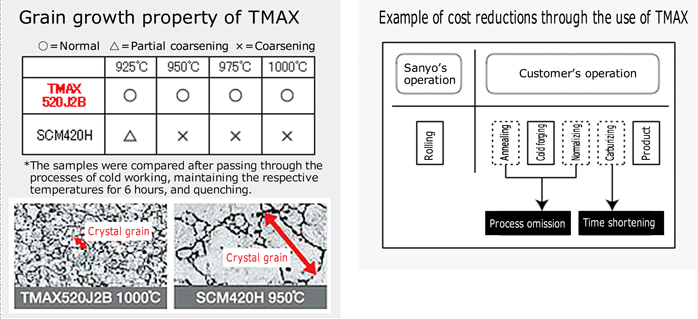 Application
Reduction in size and cost of CVJ's, gears, and other automobile powertrain parts
Reduction in production costs and increase in strength of CVT parts