QDH(QD-Hot)
Hot working die steel with excellent high temperature strength and toughness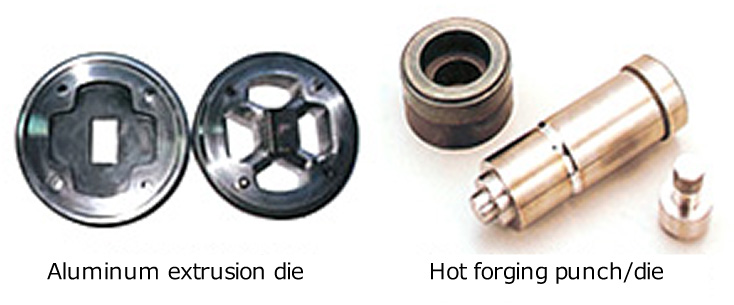 Contributing to productivity enhancement and the reduction of production costs by improving die life
High performance

Cost down
Features
High-temperature strength and toughness are achieved at a high level.
QDH is a hot working die steel that combines high temperature strength equivalent to SKD7 and toughness on a par with SKD61 as well as hardenability.
By possessing perfectly balanced characteristics in terms of high temperature strength and toughness, QDH contributes to the extension of die life through reducing metal fatigue, wear and cracks.
Merit
QDH (QD-Hot) greatly improves die service life and contributes to increased productivity and product cost reduction.
As compared with the typical general purpose steel SKD61 (JIS steel), QDH(QD-Hot) is equipped with high-temperature strength and toughness that serves as an index, respectively, of deformation and wear of dies and difficulty to crack in a well-balanced manner and also provides an outstanding fatigue strength. The material can greatly improve the tool service life.
In particular, applying QDH (QD-Hot) to hot forging dies or die-casting dies used under extremely severe conditions is expected to achieve a high service life improvement effect.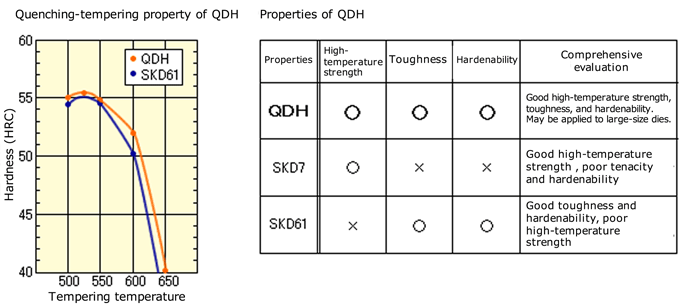 Application
Hot/Warm forging dies, Casting Dies, extrusion dies, etc.