High-performance gas atomized metal powders for 3D printers
High-quality high-performance metal powders with slight impurities and an outstanding fluidity.
Our metal powders for 3D printers provide low oxygen, and spherical shapes suppress impurities in moldings and keep satisfactory powder lamination, feedability, and high packing properties. Due to a high packing density, satisfactory density is also achieved in moldings after the lamination.
We provide spherical metal powders that can keep up with various applications and forming systems such as molds and corrosion- and heat-resistant members, turbine, aircraft members, artificial bones.
High performance

Small size and lightweight.

Process shortening

ECO

Features
The Company possesses diverse metal powder atomizer facilities of 300 kg, 30 kg, and 2 kg in addition to the world's largest class two-ton vacuum melting gas atomizer. Our 3D printer metal powders are manufactured by combining vacuum melting and inert gas atomization; they are high-cleanliness powders with greatly reduced oxygen, and provide superb fluidity and high packing density.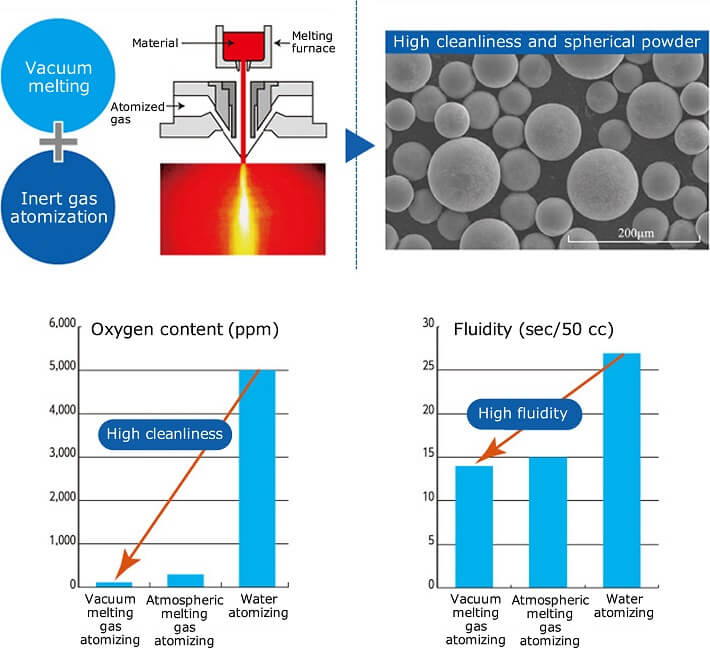 Merit
Particle distribution control best suited for customers' original composition designs and various applications and shaping systems.
We will support smooth development and cost reduction from small-lot prototypes to a few-ton level of production.
Examples of manufactured alloys