PCM40・PCM40S
Precipitation hardening plastic die steel with hardness and machinability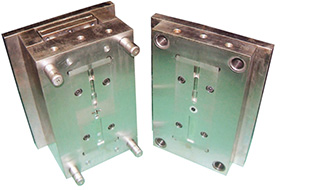 Contributing to the reduction of production costs of plastic molding dies and the quality improvement of plastic products
Cost down

ECO
Features
PCM40 and PCM40S provide both hardness and ease of machining and achieve high quality at low cost.
PCM40 is a preharden-type (no quenching-tempering needed) plastic die steel with the hardness of 40HRC. At the same time, it is highly machinable to easily allow sophisticated and precise cutting works. While plastic die steels are generally manufactured using a remelting method to reduce inclusions that impair mirror polishability, we have succeeded in drastically reducing inclusions by applying the manufacturing technology of high cleanliness steel without using a remelting method, and have thereby established a low-cost manufacturing process for high quality plastic die steel.
Merit
PCM40 and PCM40S contribute to dies cost reduction and quality improvement of plastic products.
Owing to its low cost and superb machinability, PCM40 and PCM40S contribute to increased precision and cost reduction in dies fabrication.
PCM40 and PCM40S contribute to improvement of product quality due to their outstanding mirror polishability.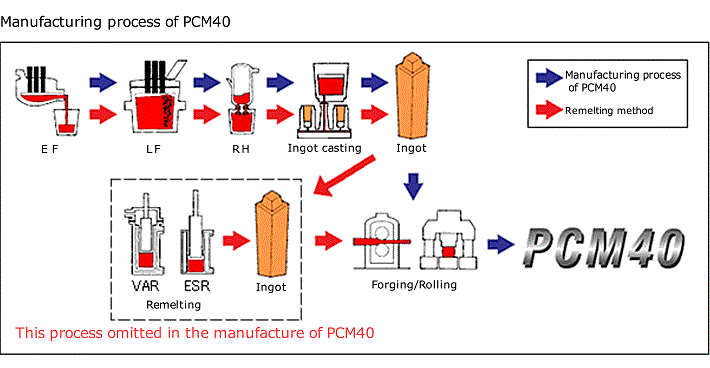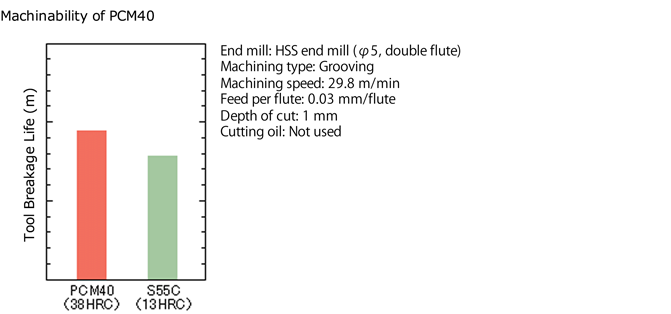 Application
Precision plastic molding dies
General-purpose plastic molding dies
Rubber molding dies, etc.