Tool Steel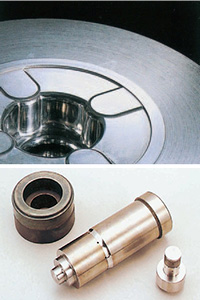 Long service life with extremely high durability
Tool steel, used to make dies and tools, is special steel featuring high shock resistance, wear resistance, fatigue strength and high-temperature strength.
Sanyo Special Steel offers high-quality tool steel featuring high-cleanliness and constant mechanical properties and heat treatment properties in round bars, flat square bars and tubes, responding to diversified needs of customers.
Major Grades
Hot working tool steel
Hot working tool steel provides superior thermal resistance and softening resistance and is used for hot/warm forging, hot extrusion and die-casting.
Cold working tool steel
Cold working tool steel provides high strength, toughness, and superior wear resistance and is used for cold forging/pressing and fine blanking.
Plastic mold steel
Plastic mold steel provides high corrosion resistance, wear resistance, weldability, mirror finishability and is used for forming plastic and rubber products.