Stock Information
Total Number of Shares Authorized to be Issued
94,878,400
Total Number of Shares Issued
54,507,307
Stock Listings
Tokyo Securities Exchange(1st Section)
Number of Shareholders
11,486
Principal Shareholders
Name of shareholder
Number of shares
(thousands)
Percentage of
voting rights
NIPPON STEEL CORPORATION
28,863
52.97%
Company's Kyoeikai Association
2,418
4.44%
Japan Trustee Services Bank, Ltd. (trustaccount)
1,258
2.31%
The Master Trust Bank of Japan, Ltd. (trust account)
1,206
2.21%
Sumitomo Mitsui Banking Corporation
1,139
2.09%
NORTHERN TRUST CO.(AVFC)RE‐HCR00
935
1.72%
NSK Ltd.
772
1.42%
Mizuho Bank, Ltd.
728
1.34%
Company's employee shareholding association
674
1.24%
Marubeni-Itochu Steel Inc.
621
1.14%
As of March 31, 2020
※The number of shares omits fractions of less than 1,000 shares.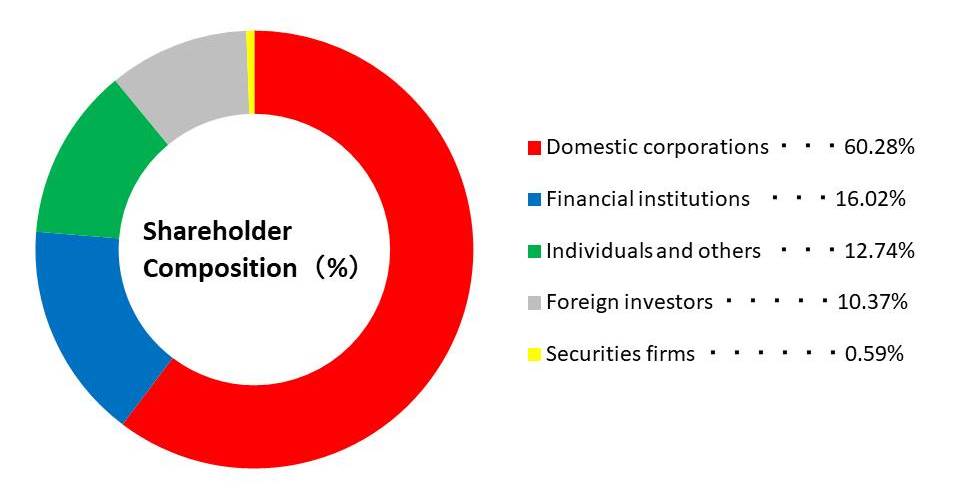 ※13,134 shares of treasury stock are included in 131 units in "Individual and others" and 34 shares in "share less than one unit".
※"Other corporation" includes 6 units of shares in the name of Securities Depository Corporation.
※With the resolution of the 105th regular general meeting of shareholders held on June 28, 2017, the consolidation of shares (consolidation of 5 shares into 1 share) will be implemented on October 1 of the same year, and on May 17, the same year By the resolution of the Board of Directors held, the number of shares constituting one unit of shares has been changed from 1,000 shares to 100 shares as of October 1 of the same year.